Affiliate Marketing Amazon is a short guide to help you get started making money with Amazon…
From signing up as an Amazon Associate to getting your first sale.
If you want to start making money online using Amazon then please read Affiliate Marketing Amazon in full. This by no means will guarantee you earn, but to start small is to learn big. After a few small sites, you will have gained the knowledge that many don't have. Too many people jump in, try big and fail. The very best way is to start small.
The main reason that most people start with Amazon sites, is because they're the easiest way to get started.
Affiliate Marketing Amazon Facts
Amazon associates is by far the largest affiliate network out there. It allows you to tap into over a million products. Beginners to affiliate marketing with even the most limited technical knowledge, won't have any problems getting up and running with Affiliate Marketing Amazon.
Amazon is a the most trusted brand on the web… Buyers trust Amazon, therefore spend more money on average than any other online shopping site. Affiliate Marketing Amazon Stores do extremely well due to this, and even though commissions aren't high, (4-8% on average) the more items you sell per month, the higher your commission could be.
Promoting higher priced items can help to increase earnings, and also many people sent to Amazon through your link, could end up buying more than 1 item, as Amazon are excellent at upselling, and you will be paid for any purchase they make on Amazon over the next 24 hours.
I love it when I get paid for an item totally unrelated and I think 'yeah that's Amazon'.
Another point I'd like to make is that an Amazon Affiliate site does still take work. You can't just throw up a few reviews and hope for the best.
You'll need to create fresh content on a fairly regular basis, you'll need to keep building your network and gaining backlinks to the site, and you'll need to keep growing.
It's a very straightforward process though…
Presenting… The Affiliate Marketing Amazon Blueprint
Affiliate Marketing Amazon Sign-up Process
To sign-up and be approved for the Amazon Associates program, you will need a website or blog, and they will ask stuff like.. describe what your website is about, how will you advertise and to what type of audience. A free blogger blog or similar will suffice (just to sign up and get going), if you do not have a proper site yet.
If you're already an Amazon Affiliate, skip this step.
Go to the Amazon Associates site here (opens in new tab)
If you already have an Amazon account, log in. Otherwise… select your country in the top right corner and click join now for free.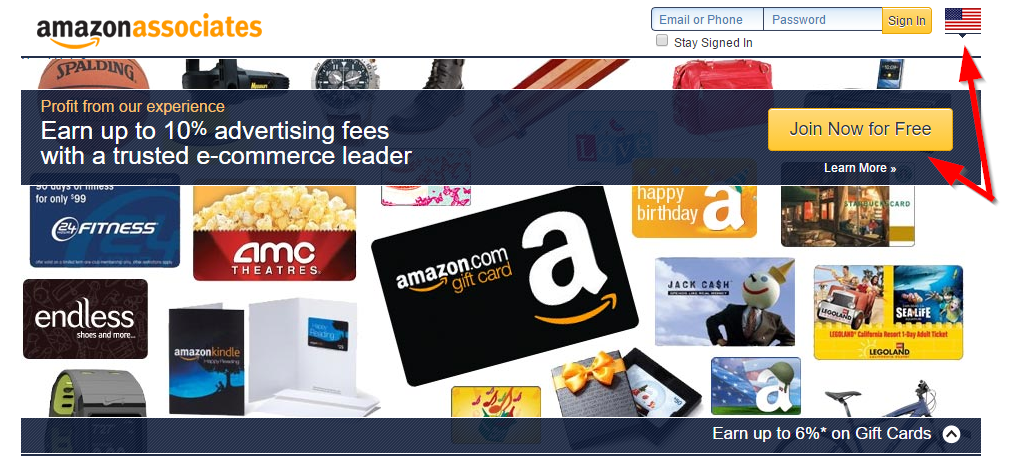 Go ahead and fill out all of your information, or if you need a walkthrough see this post – How To Sign Up as an Amazon Affiliate
Choose your Affiliate Marketing Amazon Niche
Getting ideas
Amazon itself, is the one of the best sources of finding profitable ideas for a niche. So try this for your first idea.
Start with Amazon Bestsellers (https://www.amazon.com/Best-Sellers/zgbs) if you have no idea.
You'll also see the other tabs at the top you can explore… Hot New Releases, Movers and Shakers etc.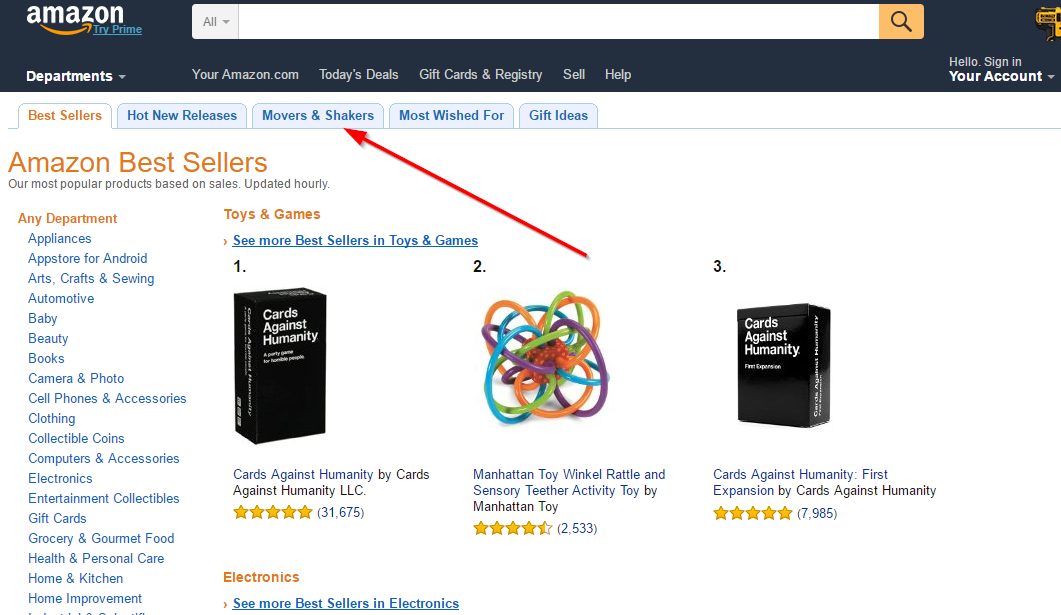 Or go to Amazon.com, Shop by department and Pick a category you are interested in. Browse through the sub-categories within the larger categories to keep your ideas more focused. Look at Best Sellers again to see which niches are doing well.
Look at products with a high number of good reviews, and read through them to gain more insight into how popular they are.
Definitely check out the book section as well to see what people are buying up big in, as this shows how much interest there is on the subject. Check the contents within any of these books and you will also gain ideas on what to write about. Most of the books on Amazon will have a table of contents preview, you can see.
Spend a bit of time navigating through the site here and make yourself a big ol' list of stuff you may be interested in for your niche.

Amazon is actually telling you whats going to sell really well.
You should be able to generate a list of dozens of ideas from Amazon.
Another place to try is TopTenReviews.com to get ideas, if they have it on there its more than likely profitable.
Also…
Make a list of some things you are interested in. It's good to try for something you have interest in as you will also have some knowledge on the subject. Passion = Profit (well… not always but a good percentage of the time)
Any of the product ideas from Amazon match, or come close to your passions? Great!
Another read for choosing a good niche, that may pop some ideas into your head >> Finding a Profitable Niche
(it might inspire you, who knows)
By now hopefully you should have a decent size list to work with.
Narrowing it down
It's good to take any broad ideas for your niche, then narrow it down to a type of product or a group of products you could promote.
Most likely, your list will have some broad topics. So take any broad topics you listed, and narrow them down to something a little more precise.
For example…
Travel – Luggage and Travel – Travel Accessories
Gardening – Outdoor Decor – Water gardens/ponds
Fitness – Best Weight Gainers
Car lovers – Best Auto Accessories
Cooking – Outdoor Cooking – Grills and BBQ's
Power Tools – Drill Press –  Benchtop Drill Press
Baby Stuff – Baby safety products
Sports and Fitness – Elliptical Trainers
(Just some random ideas)
Think "Best (product idea) or (product idea) "Reviews" as some of them, "how to ___" (product) and also 'buyer intent' words like, "buy (product), or like what someone would search for when already intending to buy. deal/s, value, cheap, tested, get, bargain, best selling… test them out in with your ideas to think of a good name.
Choose more than one narrowed down sub niche for each broad niche, so you have a decent size list of keywords (or keyphrases) to work with.
Following is a list of questions you might ask yourself when looking for your perfect niche.
-is there a problem that needs a solution
-how much competition will you have, can you better it
-will you be able to create enough content around the subject
-is there a large enough range of products
-is it evergreen or too seasonal
-is there many people searching for this
If you're passionate about it, even better as this will show in your content, even if you don't see it, people will.
Keyword research your ideas
This is where you will need to use a keyword research tool. Google's Keyword Planner is a great place to start and it's free! There are some good advanced keyword tools as well, and if you want to get super serious with your keyword research (and save a bucketload of time), I recommend you get at least one of the following…
Market Samurai – An essential keyword research and SEO competition analysis tool.
This tool is a one time purchase! Read about it here
Long Tail Pro – A powerful keyword tool that makes finding relevant long tail keywords easy.
Monthly payment plans. Check it out here
Anyway back to Google's Keyword planner. You'll need an adwords account.
If you don't have one, it's pretty easy to create an adwords account.
Go to http://adwords.google.com. If you already have a Google account, you can sign in with that and create your adwords account. If not you'll be asked to do this too. You'll get email confirmation, then your done.
When you've created your adwords account, you can sign in to Google's Keyword Planner here
This is what you'll see when you sign in.

A short explanation of what the choices mean…
-Search for new keywords using a phrase, website or category:-
This is where you will get keyword ideas that are very close to the seed keyword you enter.
-Get search volume, data and trends:-
This feature is used if you already have a list of keywords and want to see how many people are searching for your keywords.
-Multiply keyword lists to get new keywords:-
This feature allows you to enter a list of keywords in which then it will combine them all together to get some keyword phrases. Although a lot won't make sense, you will find a few.
Look to the right to learn how to use Keyword Planner, or…
If your confused and want to get to know how to use Google Keyword Planner in more detail, check out Backlinko.com's "How to use the google Keyword Planner" A great indepth guide that explains all, and will show you how to get the most SEO value out of the Google Keyword Planner.
Here is the link – How to use the google Keyword Planner
By now you should have been able to narrow down to a nice list of potential keywords.
Competition analysis
Once you've got some main niche keywords to work with, you can then check out how competitve it is. There are several ways to do this…
Browse your competitor's websites, and look things like 'how they are monetizing their site, what content gets the most shares, how they entice visitors etc. Look at ways you could improve what they do, could you do it better?
Use a tool like Similarweb  or Semrush to put in your competitor's website to see more data on what your competitor's are doing, you can analyze direct, organic, referral and other traffic sources to find what's working for them and what's not.
They will both give you a decent amount of information for free.
Finding out how they're making money and how they're getting traffic are just a few things that you can discover with some in-depth research.
A simple Google search can help with the process. Type your keyword idea into the Google search box to see how many other pages get listed in the results for that keyword. Now put quotation marks around the keyphrase, see how much the search amount drops. If there are under 5,000 the competition is not too bad. However this is very basic research and meant to help you on your way to further research with keyword tools.
Competitive Analysis is where Market Samurai (mentioned above) is fantastic. There SEO Competiton module does all the work for you and lets you see your competitors and how tough it will be to compete for your chosen keyword. So you can see at a glance if it is a good keyword to go for. See more info on Market Samurai here
Hopefully you have narrowed down now to just a few. If you have come to the point where you can't decide between a few, and they have great potential, keep them for your next site!
Pick your niche! (and really start thinking of some good Domain names you can use).
Have a look at some example sites doing well ..
Kitchen Faucet Divas
TheBestEspressoMachines.org
Best Pocket Knife Today
Top Drones For Sale
Take a few notes on what they have done to get where they are.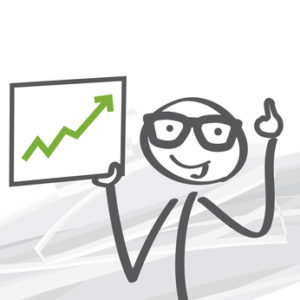 Finding profitable Affiliate Marketing Amazon Products
You've done some of this work if you selected your niche using Amazon Bestsellers.
First, focus on products around the $50 to $100 and up mark, with good reviews and at least a 3 star rating, as you don't want to promote crap.
Now take a look at the Amazon Best Sellers Rank on chosen products, and the ones that have a ranking of 5,000 or less, means that it is very popular and they are selling a lot of these everyday. Scroll down on any product page until you come to 'Product Information'.

I randomly chose a Garden Kneeler and Seat for this shot. The ranking shows #905 in Patio, Lawn and Garden. That's a decent ranking that shows it is a popular item.
Keep doing this for all categories around your product, to see how popular all the other products are that you can promote within your niche.
Also see how often your chosen products are being searched for in google… Go to the keyword tool, and anything with at least 500 to 2000 searches a month is a pretty good number.
Try Merchantwords.com as well (it's free for a few searches a day) and sort by highest search volume. Type in your keywords and your looking for the first few keywords in the list to add up to around 100,000.
I tried 'Garden Kneelers' in Merchantwords and got a terrible result, but within the same category "Gardening" I tried 'Water Gardens' and boom! See…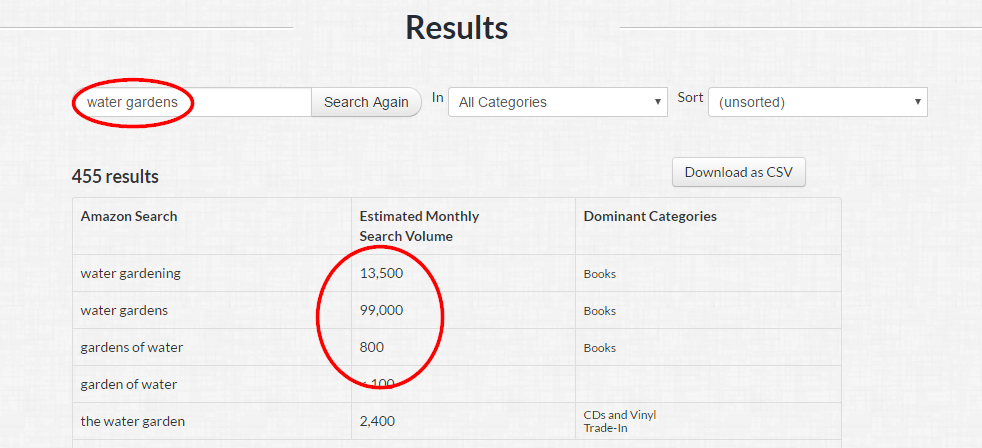 Even though the dominant categories are books, it is a highly searched keyword.
Keep in mind you want to be sure that it is something that is going to sell consistently all year long and into the future. (That is not to say you cant sell ski gear for example, as you can sell worldwide with Amazon).
Go through the competition analysis again from before. In particular, look at your competition sites again, now with your product keywords  How do they rank? 3 or 4 page rank is standard but any higher will be difficult to compete against.  How many incoming links? 100 seems ok but 1000 will make it highly competitive.
Also the quality of their site, could you match it or better it?
Make sure that around these higher priced items, there are plenty of lower priced products to promote. As people will purchase lower priced items more often, and this keeps your commission percentage up, since Amazon drop everyone back to 4% at the start of the month. (You can also have different sites to do this.. one high price one low price, same account).
Take camping for instance, there are both high and low ticket items within, and when people go camping, they also need lots of small supplies for their next trip.
So go through Amazon and note the products you want to promote, high priced and low priced, so you have a good mix.
Tip: A lot of people choose electronics like tv's, laptops, watches, cell phones etc because they are expensive items, but there will be too much competition. It's better to go for stuff like power tools, bbqs and stuff like that.. less competiton overall.
Time saver tip:
Using software to find high value products on Amazon, with low competition, will help you do it in a fraction of the time, and make it very easy to rank for on Google.
Amasuite software is the best on the market for this. You can do all of the above in minutes instead of hours!
AmaSuite4 is (as its name says) a whole suite of tools including…
Azon Top 100 Analyzer
Azon Product Inspector
Azon Keyword Generator
Azon Review Finder
It's features are almost endless and way too many to list here. I'd suggest having a good look into this software if you want to simplify the whole process, and get your profitable Amazon Affiliate site (or sites) up as soon as possible.
Read about the amazing Amasuite4 here (or click below)
Creating an Amazon Affiliate Marketing Website
You can create a website based around profitable products you have found, or you could create your site based on the niche you chose and then look for your products, long as you've done your research into how profitable the products in this niche are.
There are many types of Affiliate Marketing Amazon sites you can choose from, for example, Product Review sites, Price Comparison Sites, Affiliate Blogs etc.
However you decide, setting up your site involves buying a domain name, getting some good hosting, installing and configuring WordPress and choosing and installing a great wordpress theme and some suitable plugins. It's all a very simple process really.
Getting your domain name
Hopefully you've thought of a few Domain names and you can go see if they are available. I use GoDaddy to buy all of my domain names, but have also used Namecheap in the past. Both are great Domain name registrars and are affordable.
Go and play around and see what you come up with. Here are the links…
GoDaddy
Namecheap
If you need a little help here, read this > How to Pick the Best Domain Name
Setting up your Hosting
You can get hosting and your domain from the same place but this is never recommended. I recommend Hostgator or Blue Host for WebHosting as they are both affordable solutions.
If you are new and need help setting up a website read this post…  'How to Create a Website Using WordPress'
It covers everything you will need to know.
Installing and configuring WordPress
Both the above recommended hosting have 1-click WordPress installations, as do most of them. This makes it extremely easy to get up and running with WordPress.
You'll need to change your nameservers over to your hosting which can possibly take a few hours.
As I said above, all of the above is covered in this post – How to Create a Website Using WordPress
While you wait for the nameververs to point to your hosting, skip ahead to the content section and start creating some content.
Design your site with a great theme
Here's where you may spend a bit of time trying to choose a theme to suit, but try not to procrastinate, as you can change your theme later if you don't like it.
Depending on what type of site you choose to make there are several ways to go…
You can choose a review specific theme, price comparison theme, all in one ready to go Amazon specific theme or a niche authority type, where you can pretty much choose any great looking theme that suits and add some plugins for reviews, amazon products etc.
I prefer and recommend to make a small authority site then mix it up. This way you can have your reviews in a menu, along with maybe a price comparison section, and your store as well. This will ensure you have a good range of content and can expand in the future if you want to.
-You can try a free theme from the WordPress repository, after you install WordPress just choose one from within your WordPress dashboard, under 'Appearance' then 'Themes'.
Click on 'Add Themes' to see all that's available. Then try searching in the search box with keywords related to what your looking for, like… Store, Woocommerce, Reviews etc.
-You can purchase a premium theme, from one of the many theme providers.
Like some of these…
'Best' by MyThemeShop – Resposive, SEO ready and includes an awesome review system.
'Divi' by Elegant Themes – A stunning theme with almost complete freedom in designing your review site.
…both of which have built in review systems.
-Or you can go for a Niche Authority Blog and add review plugins.
Check the following sites to have a browse around for your perfect blog theme.
-Or you could try an all in one set-up to get a quickstart on your site like the following…
Ultimate Azon
Woozone Amazon Associates Bundle (plugins and theme bundle)
You don't have to buy a premium theme to start, but probably the best reason to get one is you want your customers to trust your site straight up, and hang around a bit to see what you have to offer. With premium themes, your site will look professional from the start.
Keep in mind, your homepage is better to be full of information, not just a storefront…  No affiliate links, just links to your inner pages that contain your affiliate links. This will keep people on your site longer reducing bounce rate and also helps to kinda seal the deal.
Like I said before, you can add your actual store, and/or everything else, to your menu.
Do no forget to put a disclaimer that you are an Amazon Affilate. This is a rule from Amazon. Most people put it in the footer so it is on every page. To know what to put in the disclaimer, see the Amazon page here, and go to number 10… Identifying yourself as an Associate. They tell you the minimum to display.
Also the core pages you need on your site to be credible with google…
About
Contact
Privacy
Affiliate Dislosure
Install some suitable plugins to get the most out of WordPress
Please see this post – Top WordPress Plugins Every Affiliate Site Should Have to help you understand plugins and what they do.
Affiliate Marketing Amazon Content Plan
It's no secret that you are going to need some good content on your site to even begin to think about being ranked in Google serps. Therefore you will need to plan out some sort of content strategy.
Your biggest challenge will be producing great content on a regular basis. Nobody can tell you what to write, as you are your own person. A little research into content creation can help, and you may find yourself getting better at it as time goes on. Just start with the easy stuff, like the following…
Plan to write 5 articles to start, just to get you going.
To start out your content length should be at least 700 – 800 words, if you can I'd go for 1000 to 1500 and beyond when you get going.
Try a few "Top 5 or 10 (product name) for (whoever uses this product)" posts, these are quite easy to write.
Another idea is "how to" posts. How to use a particular item you are promoting, these are also quite easy to write, and can be a regular in your content plan.
Include a 'weekly deals' type of post, where you publish a post every week on deals in your niche, this is a great way to come up with regular content (and now your content plan is starting to look great).
Whatever it is, make you sure you maintain a high level of quality, and make sure you use genuine content and not copy content.
Also don't use product sales pitches too much. Affiliate Marketing Amazon sites succeed best with helpful resource articles, like in depth reviews, buying guides, comparisons and how to's etc.
A big part of drawing traffic to your site will involve content. If you aren't able to write the content yourself, then you could hire a freelance writer to do it for you. One place I find to get pretty good content is Textbroker, where you can get writers of different standards according to your budget. Some other places are iWriter, Upwork and maybe Fiverr if your on a very low budget.
Whatever you do, you need to have a good flow of content being posted to your site in order to draw traffic in. Your content needs to be interesting, have good grammar and be search engine optimized.
Reviews are are a great place to start…
Writing Amazon Product Reviews
A big part of earning good money through the Affiliate Marketing Amazon Associates Program, comes from reviews. This should be a highly covered area in your efforts. Taking time to produce top quality, in depth reviews, is the best way to get higher click through rates  and increased sales.
Reviews work so well because it's more than likely people who are looking to buy the product (or type of product) already, are reading these reviews. A review plugin will make it easier if you dont have a review specific theme.
In your reviews, be completely honest (people will pick up on this). Get to know the product by purchasing it yourself or even ask for a review copy or sample. If you can't use the product yourself, do some thorough research. You don't need 5 star reviews every time, (you can list some faults), again people will appreciate your honesty.
In writing your review…
Try put the important info first, so as not to lose readers interests… start out by grabbing your readers attention first, then build their interest by explaining what makes this product so awesome, and so on.
Here are some topics to cover in a review…
Cover information on what the product does
Who it's for and why they would want to use it
All the benefits of the product
Your own opinion on the product
Pros and Cons
Any other people who have used or had success with it
The price, and how it's good value
Where to get the product (your affiliate link)
Throughout your review, have a few (not too many) text affiliate links as well, as they might be convinced enough to buy now, before they read the entire review. (We can all hope for the best!).
Remember, a good product review is based on research and/or knowledge of a product, and an honest evaluation of its benefits and any faults of the product.
Adding Your Affiliate Marketing Amazon Links
When it comes to adding your Amazon affilate links to your site, you can do this several ways.
-If you have decided to use a theme like the Ultimate Azon theme or Woozone, then you're covered.
-You can use the options Amazon provides. If you are loggind in to your Associates account, any page on Amazon, you can click the "Link to this Page" to get your links, using the Site Stripe.

You can use text links, like I suggested above to put in your reviews. This gives your site a more natural feel to it. Amazon also gives you the option to use Image links, or both text and image, and banners as well.
-Use plugins to grab links easily, preferably with link 'localizer options'. (This means your customers will get redirected to their country's Amazon store, and you won't miss out on global commissions). Try EasyAzon, it does it all. Or search within the WordPress Plugin Directory for free suitable plugins.
When you've got so much other work to do on your site, the last thing you want to do is add them manually.
Affiliate Marketing Amazon SEO and Traffic Tips
Obviously you'll need traffic to your site for it to be profitable.
First SEO your site for the Search Engines
Start by setting up Google Analytics and Webmaster Tools
Go to Google Analytics here. If you're not sure how to set up Analytics, read this post.
Add your site in Google Webmaster tools here to get your site indexed a little faster.
Make sure you URL's are SEO friendly – Change your permalink in your WordPress dashboard under 'Settings' then 'Permalinks'. Change to 'Post name' Save.
Here is a guide from Google itself, if your interested –  Search-engine-optimization-starter-guide.pdf
Install an SEO plugin like Yoast or All in one SEO, to improve your sites SEO in all aspects.
These SEO plugins will make it easy to add title tags and meta descriptions to your pages and create great content. You can see how well a post is SEO optimized before you publish it.
Plus – they take care of things like Submitting your sitemap to google, analytics and more.
They also integrate and connect with your social media profiles, which means you'll need to…
Get Social
Social media sites like Facebook and Twitter can send tons of useful traffic and generate a lot of business if used correctly.
Create a Facebook page for your site to communicate with your readers.
Join Pinterest and create product related image boards (these get shared a lot).
Use Twitter to tweet your posts.
Make sure to include social sharing buttons on all of your posts.
There are so many Social media sites for your Amazon Affiliate business but I'd stick to the 3 above to start.
Read through this post for a little more detail – Using Social Media As Your Marketing Strategy
Optimize Images
Using high quality relevant images on your site is a must, but you also need to optimize them for search engines. This means using keyword rich file names for your images and also using image alt text, which is the text that the search engine uses to understand images.
Both SEO plugins above will allow you to do this with ease.
Build Links (in and out)
Make sure you interlink your posts – send readers to another related post of yours.
Also link out to any top influencers or bloggers in your niche. They could possibly share your posts if they are featured in it.
Write something for Reddit or Tumblr, or answer some questions at Quora or Yahoo Answers for more backlinks.
Directory submissions – use a submission tool or a paid service to do this, making sure not to do too many at once. Spread it out over a few months.
Get on Youtube – a few simple how to videos helping people use the product you are promoting is a great way to get some visitors to your site.
Here is another post you might like to read – 17 Random Ways To Get Traffic To Your Site
Following all the above information you should start seeing traffic to your site within a few weeks, but it all depends on how much effort you put in. Just know that what you put in at the beginning will be the hardest. After set up, maintaining the site will be a breeze.
As I said at the start an Affiliate Marketing Amazon Site does take work and this guide by no means guarantees you will earn. If you decide to go the free route, it will take longer. If you have the cash to spare for a premium theme or plugin, all the better. The more you automate things, the easier it will become.
Following is even more info to get you to that first sale!
Tips for Affiliate Marketing with Amazon
To Takeaway – here are a few tips to keep you on track
Make product images into clickable links
Link to Amazon as many times as possible
Take advantage of seasonal content
Build an email list to market to
Sell lots of cheaper items to keep commission higher
Have links to other relevant products
Try an Amazon search box on your site – allows customers to search the Amazon catalogue
Review how your links are converting and consider using them in this way more often
Encourage gift buying (content idea!)
Consider Google Adsense on your site, after you get a bit of traffic
and always, always up date your site regularly with great content!
Affiliate Marketing Amazon: Tools to Help
Here I've put together a list of all the tools mentioned above, and their links, so you can refer to each one to see if they are suitable for your new Amazon Affiliate Marketing site.
Keyword Research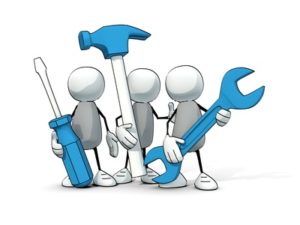 Google Keyword Planner
Market Samurai
Long Tail Pro
SimilarWeb
SemRush
Domain and Hosting
GoDaddy
NameCheap
Hostgator
Bluehost
Plugins
AmaSuite
EasyAzon plugin
Amazon Link Engine
Amazon Product in a Post
Yoast SEO
All in one SEO
Themes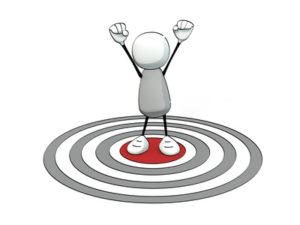 WordPress Themes
My Theme Shop
Elegant Themes
StudioPress
Ultimate Azon
Woozone Amazon Associates Bundle
Content Help
TextBroker
iWriter
Upwork
Some Other Free Plugins
Amazon Link Engine
Amazon Product in a Post Plugin
Amazon Auto Links
Also check out this Resource Page for lots of helpful tools and what they do.
If there is anything you don't understand, I am happy to explain further…
Contact me here or…
Any Questions? Fire away! in the comments below
Thanks in advance if you decide to share this guide!